Work with the Angels for Guidance and Inspiration
Reiyel is the angel of deliverance, wide open spaces, tall mountains, and the natural world and guides us on our spiritual path through meditation. This guardian angel is able to help you make a connection with your spirit guides using a higher form of consciousness. He can help us lose our attachment to material things. He is the guardian angel who will help if you are trapped in a situation and will protect you from dead-end paths, manipulation and greed. He brings balance if you have your head in the clouds or are too down to earth.
If you draw The Guardian Angel Reiyel UPRIGHT the card has the following meanings:
The Guardian Angel Reiyel is a card about wishful thinking. It warns us to remember to pay attention to what 'is' now, and the many blessings we each currently experience, and not to worry too much about 'what could be.' It is all too easy to overlook what we already have in the pursuit of what we don't have.
Upright Meanings: nostalgia, disillusion, self-absorption, frustration, meditation, stagnation, remorse, yearning, reevaluation, dissatisfaction, boredom, missed opportunities, refusing offers, depression, kindness, weariness, regret, apathy, day-dreaming, focusing on the negative, redemption
The Guardian Angel Reiyel card can represent missed opportunities, remorse or regret. It can also signify becoming self-absorbed due to depression, negativity or apathy. The Guardian Angel Reiyel can indicate that you are feeling bored or disillusioned with your life, you may be focusing on the negative or feeling like the grass is greener on the other side. You may feel like you have lost your passion and motivation for life. When this minor card appears in your spread it comes with a warning to be mindful of the opportunities or offers available to you. You may be inclined to dismiss them as insignificant now but you could realise later that they would have led on to amazing things. The Guardian Angel Reiyel can also represent feeling nostalgic, daydreaming or fantasising.
If you draw The Guardian Angel Reiyel REVERSED this angel card has these meanings: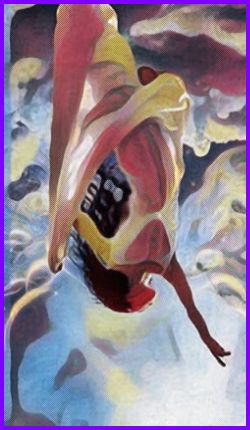 The Reversed Guardian Angel Reiyel is a card about breaking out of a self-imposed rut. You may know that you're in a rut but not realize that it is a self-imposed one. You can control your own destiny to an extent so it's time to get on with the job. You are about to find yourself getting moving again. That's a good thing.
Reversed Meanings: beginning, focusing on the positive, focus, new goals, gratitude, being proactive, zest for life, motivation, seizing opportunities, interest, enthusiasm, letting go of regret, ambitions, self-awareness, end of stagnation
The Guardian Angel Reiyel card reversed indicates that you are pulling yourself out of the rut you have been in. While your life may have previously felt stagnant, that is now coming to an end. The Guardian Angel Reiyel reversed represent leaving regrets, remorse and wishful thinking in the past and focusing on the present and moving forward in a positive direction. You will be seizing opportunities with enthusiasm and focus. It signifies that you have realised that you have been detached from the world and caught up in self-absorption and that has now been replaced with self-awareness and a zest for life. You are done with fantasising about what your life could be or wallowing in grief or self-pity and are ready to re-join the world and take a proactive approach to making things happen. You may be letting go of patterns or people in your life that are no longer good for you when this minor card appears. The Guardian Angel Reiyel reversed can also represent acting spoilt as a result of pandered to too much by others. If you are engaging in this sort of behaviour you need to take responsibility for yourself and stop expecting others to do everything for you. If you don't, it will be to your own detriment.