Work with the Angels for Guidance and Inspiration
The primary purpose of our earthly incarnation is our development as spiritual beings. It is this Guardian Angel who guards our spiritual growth throughout life, always defending our souls. This angel blesses all the activities which nurture our spirit's welfare, which in fact means the things which are loving and respectful to ourselves. It helps us to discover what we need to recognize: the fact that we are loved and cherished. If what our spirit needs is fun then this angel will encourage us to lighten up and perhaps seek the company of a good friend and have an enjoyable time.
If you draw The Guardian Angel of Spiritual Growth UPRIGHT the card has the following meanings: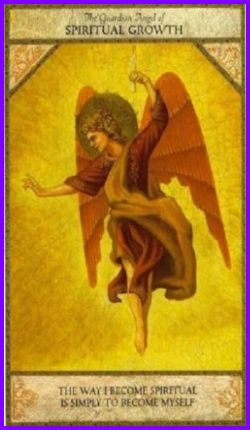 When The Guardian Angel of Spiritual Growth appears, this is a great time for travel of any sort. It also can indicate metaphorical movement, a change in where you are inwardly. Usually this is a change for the better, whether the context is internal or external. Think about where you want to be.
Upright Meanings: progress, healing, calmer waters, sorrow, travel overseas, lethargy, relief, moving forward, spirit guides, moving on, overcoming hardship, feeling deflated, harmony, escaping, calm after a storm, journey, things calming down, journeys, running away, stability, going on holiday, travelling, holding onto negativity
The Guardian Angel of Spiritual Growth represents progress, moving into calmer waters, moving on or moving forward. It is a minor card of overcoming hardship, healing, relief and stability so you can expect problems in your life to settle down and things to be much easier to deal with. The Guardian Angel of Spiritual Growth can also represent escaping, running away, journeys, travel, travelling overseas and going on holiday. It can signify feeling lethargic and deflated after coming through a tough time or the calm after the storm. It is also a card of intuition, inner guidance and spirit guides.
If you draw The Guardian Angel of Spiritual Growth REVERSED this angel card has these meanings:
When The Guardian Angel of Spiritual Growth reversed appears, you may be ready to speak out about things you feel strongly about. However, communication in general can be difficult now. Think before you speak. Make sure important information on your computer is backed up very well now.
Reversed Meanings: defeat, floods, stormy relationships, return from travel, eloping, difficulties, causing trouble, lack of progress, nowhere to run, slow healing, obstacles, out of frying pan into fire, disrupted/cancelled travel, stuck, trapped, delay, standing your ground, rocking the boat, changing/ abandoned plans, trouble coming, overwhelmed, instability
The Guardian Angel of Spiritual Growth reversed represents moving into troubled waters, lack of progress and jumping out of the frying pan and into the fire. In a reversed position, it is a minor card of feeling stuck, trapped overwhelmed, restricted and having nowhere to run or choosing to stand your ground. This card signifies instability, rocking the boat, causing trouble and stormy relationships so you can expect life to be a little turbulent when it appears in your spread. This card also signifies slow healing. The Guardian Angel of Spiritual Growth reversed can also represent returning from travel or holidays or disrupted or cancelled travel, changing or abandoning plans and eloping to get married. It can signify floods or accidents in the water.